FLOURISH! 
For Aligning with the Law of Attraction ~
Activ-8™!  ~ Awaken and stir into action – back up your 'talk' with this fiery blend of essences so you walk/dance/soar forward with confidence and energy.  Click to order.
Grounding Green™ ~ What more support can we ask for than that of the Earth we walk upon?  Connect and Align with Her with this blend of Green Power ~ Ground, Nourish, and Breathe in Harmony with this Miraculous Orb we call Home, for now. Click to order. 
For Stimulating New Thought ~
Mind-Full™ ~ Awaken your mental state and support coherence and clarity.  Support your mindfulness practice with this focused blend and watch your concentration improve.
Finals, anyone?  Overwhelm?  Click to order. 
For Supporting the Win-Win Scenario ~
Sacred Heart™ ~ A balm for the heart, where peace in all relations, including the one with Source/Self is born.  Strengthen and Open Your Heart with this gentle blend kissed with Roses. Need a Hug?  Click to order.
For more information on these Flower Essence Formulas, or Personalized Blends,
Click Here.  
"You wander from garden to garden enchanted, as if walking among stars…each and all apparently doing their best with eager enthusiasm, as if everything depended on faithful shining."  ~ John Muir
 #NewEarthEssence, #FlowerEssences, #Healing,#Flourishforless
~ Connection ~
It is nearly impossible, when steeped in the sanctuary of an aspen grove, to feel disconnected from a deep sense of well-being and heightened state of consciousness.
This largest living organism on the planet offers immense information to those receptive souls who step forward. The way they willingly bend in the breeze, shifting their entire being if necessary, leaning with the wind instead of against it; the gentle strength they exude while reaching great heights; their deep and wide roots that connect to each other despite great distance; the song their leaves sing, even as they fly to the forest floor,
to feed those who will follow.
Entering their sacred family this weekend, I received their essence ~ confidence and strength filled the spaces formally occupied by fear in my consciousness, my body, my being.
Aspen is one of the essences first discovered by Dr. Bach, used to draw inner strength from the spiritual world and to release fear of the unknown, to receive and process greater amounts of information. With our world in constant and often chaotic flux, surely its essence is a gift we can receive now, as we simultaneously surrender and connect to our larger family ~ in spirit and body.
 #newearthessence, #lovewins
~ Cosmos ~
1) the universe considered as a harmonious and orderly system.
2) harmony; order
3) any complete and orderly system
4) any of a genus (Cosmos) of tropical American plants of the composite family, with featherlike leaves and heads of white, pink or purple flowers
The Esse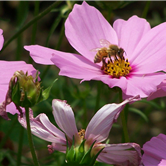 nce of Cosmos, my signature flower for readings, assists the integration and communication of higher inspiration and ideas. I chose it to represent New Earth Essence with the intention of conveying the vast and inspiring wisdom I see in our birth charts in a coherent and clear way so that harmony on Earth can be restored and mirror that of the Heavens.

#inspireharmony, #newearthessence, #integrationoflove